Vanuatu has the opportunity of embracing cycling as an appropriate commuting alternative to motor vehicles.
This is not just about the Vanuatu's commitments to address the climate crisis, but about doing the right thing to address multiple contributions to the National Sustainable Development Plan. The Vanuatu Cycling Federation has a Strategic Plan that shows multiple contributions of cycling to the NSDP. Some consultations have started with various stakeholders to assist authorities of recognising the benefits of the bicycles to Vanuatu. The consultations will continue and hopefully public, private sector and communities will realise the potential of  improving life in the Paradise. Again, Vanuatu can lead a movement in the Pacific with practical and inexpensive Actions towards improving the future of the next generations.
Safety, availability of maintenance services for example seem to be major obstacles for people using this mode of transport, but there may be are other issues…
Many things affect bike riding in any local community including, for example, access to dedicated paths, cycling policy, media coverage, safety concerns and whether people have access to bikes. Generally, these are either barriers to bike riding or enablers of bike riding.
Common barriers
Some common barriers to bike riding are:
don't have a bike

no bike accessories (helmet, bell, lights, etc)

safety concerns

fear of traffic

fear of hostility

limited access to paths

bike security issues (e.g. locking up a bike at destination)

no facilities (e.g. showers)

need to carry things (e.g. shopping)

don't know the rules

road conditions

no one to ride with

just don't think about it

travel distance

weather conditions (e.g. afternoon rain)

hilly topography

risk of embarrassment

lack personal fitness

too much effort

lack bike riding skills

not confident enough

young boys harassment to girls
Common enablers
Like the barriers, the reasons why different people ride a bike will vary based on who they are, where they live and what motivates them. Below are some possible enablers for consideration as to the ones that will have the biggest impact on bike riding behaviour change.
confidence on two wheels

childhood memories

fun and freedom

feel good factor

access to a bike

easy bike hire

cheaper than driving

faster than driving

good for environment

bike riding events

dedicated bike paths

online route information

wayfinding signage

knowledge of rules

health and fitness

de-stress/alone time

family/social time
LEGISLATIVE AND POLICY ENVIRONMENT
The relevant legislation concerning bike riding in Vanuatu is the Public Roads Act 2013 (which includes cycleways within its definition of a 'road'); and the Road Traffic (Control) Act [Cap 29].
Under the Road Traffic (Control) Act, 'vehicle' is defined to include every type of wheeled transport including tractors. This would appear to include bicycles and therefore all provisions applying to vehicles would also apply to bicycles. This includes 'driving' on the right-hand side of the road and for a vehicle not to cause nuisance. The term 'driver' is not defined, but section 3 provides that 'Every vehicle, except trailers, must have a driver.'
The below considers potential initiatives and the legislative or policy amendments that may be required to support and implement possible initiatives to encourage the uptake of bike riding in Vanuatu.
POSSIBLE INITIATIVES
Cycling infrastructure
1.1 Infrastructure plays a critical role in encouraging cycling by protecting cyclists and providing safe and comfortable conditions for users of various confidence levels. Cycling infrastructure can include a wide range of accommodations to enhance bicycling on roads and dedicated paths. It also includes bike racks, shelters, lockers, changing rooms, showers, traffic signs, and overall urban design to facilitate bicycle commuting routes. Positive awareness of bike riding infrastructure is important to growing its use. Maps and wayfinding signs can help.
1.2 Potential initiatives to address cycling infrastructure include:
Dedicated bike lanes in urban areas
Bicycle parking infrastructure at shopping centres, markets etc
Signage for bike riders to reach certain destinations
Rules for sharing footpaths with pedestrians
1.3 Due to the lack of infrastructure on some roads, it may be necessary to consider whether bike riders should be able to use footpaths. Options include:
Bike riders are only allowed to ride on a footpath where indicated (in other words, there is a sign stating that bike riders are allowed to ride on a particular footpath); or
Bike riders are allowed to ride on footpaths unless otherwise stated otherwise, but must give a warning to pedestrians prior to overtaking (in this case, there would be signage stating that certain footpaths, bike riders are not allowed).
1.4 If dedicated bike lanes are introduced, it may be necessary to make clear in legislation the rules of these bike lanes (e.g. for bikes only, can pedestrians use them, etc). Similarly, if footpaths are to be shared between bike riders and pedestrians, this may need to be legislated for.
Riding on the right
1.5 The Road Traffic (Control) Act provides that 'All wheeled traffic shall be subject to the provisions of this Act.
1.6 This means that the following provision in the Road Traffic (Control) Act applies to bicycles:
Vehicle to be driven on right hand side of road
(1) Every driver must at all times keep his vehicle to the right hand side of the road (particularly so when another road user arrives from the opposite direction or is ready to overtake). Overtaking will take place on the left. At cross roads, intersections of roads and forked roads, the driver of any vehicle shall give way to another coming on his right:
Provided that the driver of a vehicle on a road which has been designated a "major" road by Order of the Minister shall have the right of way, and the driver of a vehicle on a road on which a "STOP" or "GIVE WAY" sign has been placed, shall stop and shall yield the right of way.
(2) When a public road is divided by a continuous white line every driver must drive to the right of this line.
1.7 It may be useful to provide further guidance for bike riders, for example:
A rider must:
ride as near as is safely possible to the far right hand side of the road.
ride to the right of any oncoming vehicle
not overtake another vehicle on the right if that vehicle is turning right and giving a right change of direction signal
not ride more than two abreast unless overtaking
ride within 1.5m of the other rider if riding two abreast.
Safety
2.1 Not feeling safe when riding is a key barrier to greater cycling participation. This can be because of driver behaviour or not having the accessories to ride safely.
2.2 Potential initiatives include:
Requiring bike riders to use bike lights at night
Requiring bike riders to wear a helmet
Making clear that cyclists are to follow the same rules as other road users
Requiring bike riders not to ride more than two people side-by-side, and no more than 1.5 metres apart
Requiring bike riders to have at least one hand on the handlebar at all times
Requiring all bicycles to have working brakes and a working bell, horn, or similar warning device
Prohibiting bike riders from using a mobile phone while riding
Prohibiting bike riders from holding on to another vehicle while it's driving
Limitations as to the number of people who can ride on a bike at any one time.
2.3 The above requirements would need to be legislated, with appropriate penalties in place.
Riding at night/bike lights
2.4 There are two primary and very important functions for bicycle safety lights. The obvious function is to illuminate the terrain if riding at night. The other is as a safety device. Bike lights make the rider visible and give a defined presence on the road. They will improve the riders' chances of not being hit by larger vehicles on the road – at night or in inclement weather. Bike riders who do not have bicycle lights fitted to the front and rear of their bicycles are very difficult to see at night.
Example
When riding at night or in weather conditions with reduced visibility, you must display on your bicycle or yourself:
a flashing or steady white light that is clearly visible for at least 200m from the front of the bicycle
a flashing or steady red light that is clearly visible for at least 200m from the rear of the bicycle
a red reflector on the rear of the bicycle that is clearly visible for at least 50m from the rear of the bicycle when a vehicle's headlights on low beam shine on it.
Helmets
Research indicates that bike helmets greatly reduce the risk of head injuries, which are the major cause of death and injury to bike riders. There does not appear to be data on the number of bike accidents causing injury and death in Vanuatu. However, considering the Vanuatu context, introducing requirements to wear a bike helmet may be prohibitive to bike users.
Cycling can improve road safety and awareness
DISCUSSION POINTS
There are a number of considerations to take into account when considering options for bike infrastructure and bike safety regulation in Vanuatu including:
Addressing concerns that roads are not well maintained, why should priority be given to bike lanes?
And why not give priority to bike lanes in road maintenance to shift focus on people rather than cars?
If footpaths are crowded/non-existent, where should bike riders ride?
A high proportion of the population live in rural and remote areas – would the safety measures (such as helmet and bike light requirements) work for rural and remote areas?
Are bike accessories (such as helmets and bike lights), easily accessible? Would a requirement to have these be cost prohibitive?
BETTER INFRASTRUCTURE PROMOTES FRIENDLY COMMUTING TO PEOPLE, PROTECTING NATURE
WHAT IS THE ISSUE?
1. Infrastructure development is focus on motorised vehicles, increasing dependency on fossil fuels
 CARS ARE NOT THE END USER OF INFRASTRUCTURE DEVELOPMENT, PEOPLE ARE
The road infrastructure development is mainly focus on expanding spaces for motor vehicles. Public transport is inefficient, unaffordable and unreliable particularly in cruise ships days. Bus owners are attracted by an unregulated system that allow overcharging of tourists and quick income.
Bad road conditions affects availability of public transport, forcing an increased number to commute by walking in roads with no footpaths, with no alternatives.
Vanuatu has an increasing number of cyclists aiming to improve their mobility, but this has been consistently ignored by authorities particularly when planning and design roads. Bicycles mobility is not considered in both urban or rural areas in Vanuatu, despite of the multi benefits for People and Nature.
Apart from Port Vila waterfront, there are limited progress on promoting pedestrian mobility, eg. there aren't pedestrian crossways. People take the risk and full responsibility when crossing a road, it is always assumed that cars have priority.
When roads are not consistently repaired, private owners tend to get larger, expensive 4-wheel drive. These vehicles are less cost efficient, more pollutant to be able to drive faster over damaged roads. Therefore, cars use the margins of the roads stepping on assumed footpaths to avoid potholes, putting pedestrians and few resilient cyclists' physically in danger, while breathing dust and fumes from the progressively more polluted air in urban areas of Vanuatu.
Road worthiness inspections to vehicles seems to be only focus on collection of revenue, as it is evident that there are no checks on the quality on motor vehicles fumes and other technical aspects of vehicles.
The increased damaged state of the roads puts again pressure on focusing public funding and development on infrastructure to respond to 'car's needs'.
Most car private owners assume that their vehicle is the extension of their household, and demand investments from public funds to cater for their needs.
There is clearly a distortion of expectations where the individual interest seems to be above the collective good.
Government also invests disproportionately public funds in new vehicles and car rentals, rather than road maintenance. Eg. Police patrolling is done mainly by car which decrease the effectiveness of this important police functions in settlements with narrow walking paths. In fact, the use of a car became an entitlement of a public servant or a holder of a public position. Public service delivery became absolutely depend on the availability of government cars, fossil fuels and public funds allocated to car maintenance.
Some government services provide public own vehicles for private use to commute to and from workplace.
The use of bicycles by government is non-existent, ignoring the advantages of this mean of transport. No effort is made by government to encourage the population to use bicycles.
Youth riding BMX bicycles often have problems (including bicycles taken from them) with police that, with great energy or enthusiasm, pursuit safety conditions of the bicycle such as bicycle break conditions. At same time, ignoring fumes expelled by motor vehicles.
A fact: … most of the People of Vanuatu do not own a private vehicle.
 Infrastructure development focused on cars does not promote:
Equity, because invest in travel modes that serve a minority of members of the community;
A clean Environment, increasing dependency on fossil fuels, pollution (fumes and dust) with its dangerous effect Health;
Safety for all users including disability, walking and cycling
Health, physical and mental activity, reducing non communicable diseases (so high in Vanuatu) and improving quality of life for people of all ages
Infrastructure development is missing out the needs of most of the citizens.
While bicycles can be share by multiple users, cars will not be usually shared by more than 2.
Footpaths are rarely designed with wheelchairs ramps. Even a recent Port Vila roads development project, wheelchair ramps were not consistently designed along the area of the project. Post project alterations are even limiting wheelchairs movements with destruction of footpaths or installation of power poles in middle of the footpath. Many of these are broken by utility companies without any proper reparations.
Globally, transportation represents 14% of all Green House Gas equivalent globally. Road transportation is 41% of total transportation GHGe. In Vanuatu, transport sector growth on a rate of 6% per year and road transport represents 83% of the transport sector national emissions (National Determined Contribution, Vanuatu 2020). Cruise ship emissions, attracted by tourism policies, seems to be ignored in the transport sector of Vanuatu's NDC.
If Vanuatu is serious on its Climate Ambitions, it needs to have infrastructure development approach in the transportation sector. So, it is more reasonable to think in cars as part of the infrastructure like pedestrians, bicycles, canoes, horses, buses, ships, planes. These are all means of promoting people's mobility, move from point A to B.
Cars are necessary but Smart Cities are in our days considered those which infrastructure development is focus of People's wellbeing, health, autonomy, environment, reducing dependency on fossil fuels.
2. Traffic congestions
Traffic congestions are demand-supply imbalance in the transportation network. If roads are exclusively design for cars, with no dedicated specific lanes for other means of commuting such ambulances, public transport, bicycle lanes, and footpaths, cars will invade the full space of the road, still will circulate slow, with increased trip times, stuck in extensive queues of all types means of transport, including pedestrians.
Although public transport helps to reduce congestions, as the number of people commuting in a bus usually higher than in a private car, many users do not want to depend on bus schedules, non-existent in Vanuatu, or its availability.
Ironically, investing private car to be less dependent on public transportation aggravates congestions particularly peak hours. Walking or cycling is often quicker to commute particularly during peak hours.
Bicycle is cheaper, takes less space and energy than a car. So, it can help to reduce traffic congestions, if allowed to circulate in dedicated, or shared (vehicles or pedestrian zones), bicycle lanes with minimum investment in infrastructure complemented with proper signage and awareness campaigns.
HOW BICYCLES CAN BE PART OF THE SOLUTION WHILE IMPROVING PEDESTRIANS SPACE
An investment in bicycle lanes may also benefit pedestrians' movements benefit the commuting of wheelchairs, when lanes are shared between pedestrians and bicycles*, has lanes will have ramps
By increasing number of dedicated spaces to bicycles, pedestrians the roads can be better managed. And if with few reforms and regulated public transport to make it more attractive, there is room to reduce congestions in Urban areas of Vanuatu, increasing people's wellbeing, productivity and commuting time predictability of each mean of transport. Luganville and the Island of Espiritu Santo have particularly good conditions to be become a 'cycling paradise' with few reforms: wide roads in South Santo Road under construction
Shared bicycles are progressively used in many cities in the world and provide multiple options of commuting means not only to tourists but citizens. Shared bicycles are usually managed by private businesses for profit or by municipalities assisting the increase of municipality revenue. It promotes micro mobility options in cities CBD reducing traffic congestions and pollution. Share bicycles new market to be developed for local people and tourists.
Urban previously dedicated to motor vehicles, when space converted to walking and cycling free space for replanting of trees improving air quality
*Australian State of Queensland allows footpaths to be shared with both pedestrians and cyclists with additional signs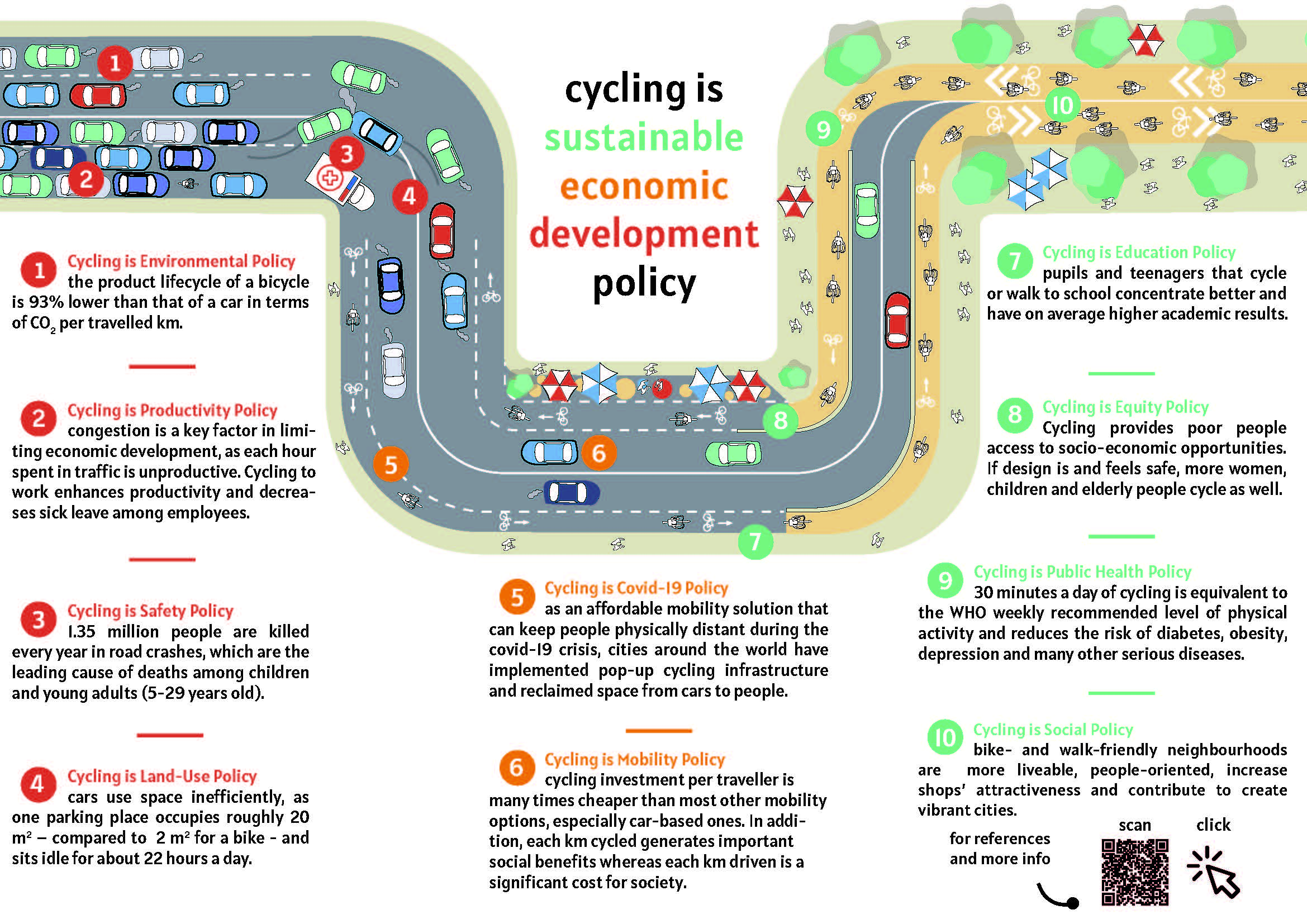 Let's be ambitious and build better: a Port Vila with  safe, formalised bicycle lanes
Further consultations needed with main stakeholders to mature a Public Policy to promote the enablers and mitigate the barriers of bicycles use in Vanuatu.
Stakeholders & People's Plan Goals
Topics of Discussion
Ministry of Education and Training

Ministry of Justice and Community Services

SOC 2.1 Ensure every child, regardless of gender, location, educational needs or circumstances has access to the education system

 

 

Training Sector Vanuatu Institute of Technology

Bicycles can make a difference for girls and young women, if the community understands the simple fact that girls have the same capacity as boys to ride a bicycle.

Use of bicycles can decrease dropouts, absenteeism, and improve students and teachers' punctuality in schools, or workers in the workplace. Promotes students' motivation, discipline, autonomy, maturity, responsibility and independence.

Design a training in bicycle mechanics to provide new job and entrepreneurship opportunities to unemployed youth in urban and rural areas, using the rural training centres network

Ministry of Health

SOC 3.2 Reduce the incidence of communicable and non-communicable diseases

SOC 3.3 Promote healthy lifestyle choices and health seeking behavior to improve population health and well-being

Use a bicycle as a commuting vehicle reduce is a Non Communicable Diseases (cardiovascular disease, diabetes and chronic lung illnesses,…) preventive.

Cyclists, as other individuals dedicated to sports, can play a role as exemplary citizens in the society and advocate for a healthier lifestyle.

The process of becoming a cyclist is often accompanied by an individual growth followed with a preference for a healthier diet, electing fresh and local food as the preferred nutrition.

Ministry of Youth and Sports

SOC 4.7 Encourage participation in physical activities and develop a safe and inclusive sports system that serves as a vehicle for community cohesion, education, health, leadership and fair play

 

 

 

Promote opportunity for youth

Create jobs and business opportunities

ECO 4.4 Improve and expand the range of sustainable tourism products and services throughout Vanuatu and strengthen links to local production

 

Development Cycling as a Sport

Olympic Movement takes into account the universal impact sport can have on individuals and society placing people at the center of its attention, ensuring that the practice of sport remains a human right; Solidarity – The Olympic Movement is committed to developing programs that together, create a meaningful and comprehensive social response to issues. It can help create an alliance between sport, education and culture.

Promote training opportunities to people in by providing bicycle mechanics training

Ministry of Internal Affairs

Vanuatu Police Force

Security, Peace and Justice

SOC 5.3 Build the institutional capacity of national security forces and ensure they are adequately resourced to meet performance targets

Department of Urban and Rural Planning

 

Correctional Services

bicycles for patrolling includes the promotion of a friendlier relation with the community as bicycles can reach areas where vehicles can't and provide health and environmental advantages to police members.

VPF often cannot immediately assist victims due to unavailability of motor vehicles of fuel. Bicycles attached to Police Posts may increase police services response to People's needs

Despite of a great publicity and communication the Port Vila Greening Master Plan is not publicly available, so is not possible to confirm if there is any consideration on the benefits of bicycles as a mean of transport.

Promote training opportunities to people in reintegration by providing bicycle mechanics training

Ministry of Climate Change and Environment

Blue-Green Economic Growth

ENV 2.3 Promote renewable sources of energy and promote efficient energy use

 

ENV 2.4 Reduce waste and pollution through effective waste management and pollution control

Cycling is the most energy efficient method of transport, including walking.

It is in the interest of the societies to promote cycling, as a the cleanest and the most energy efficient means of transport, while investing in cycling infrastructure will enable a  safer and more attractive  transition to clean transportation.

Bicycles are the cleanest mode of transport. Vehicles like trucks, cars, buses not only produce greenhouse gas emissions, but also cause climate change and directly negatively affect the quality of the air we breathe. The pollution from these emissions eventually falls back to the earth and is transported by runoff and groundwater into streams and rivers, lagoons and the Ocean.

Ministry of Infrastructure and Public Utilities

Improve Infrastructure

ECO 2.1 Increase access to safe, reliable and affordable modern energy services for all that are increasingly generated from renewable sources and reduce reliance on imported fossil fuels

 

ECO 2.6 Provide equitable and affordable access to efficient transport in rural and urban areas

ECO 2.8 Establish effective partnerships that facilitate the development of the private sector and rural communities as service suppliers in the provision of transport and the infrastructure sector

 

 

Investing in roads with safe bicycle lanes is a great initiative to both increase access to conventional means of transport but also, with a low additional investment, promote the safe use of bicycles, thereby reducing the reliance on imported fossil fuels.

Vanuatu Cycling Federation meet with MIPU in 2022 and suggested the build of the first bicycle lane at Pango road and South Santo Road.

Cycling is the most efficient and affordable mode of transport for both rural and urban areas, if accompanied with good progressive public policy that facilitates its safe use, namely with few proportional investment adapt main roads for bicycle lanes.

Eg. Schools and markets are often in the middle of two villages.

The promotion and maintenance of bicycles in rural areas can create opportunities to promote small businesses, locally based in partnership with bigger businesses who may be able to provide tools and spare parts to rural areas.

Ministry of Trade and Tourism

Strengthen Rural Communities

ECO 3.1 Promote broad-based growth by strengthening linkages between tourism, infrastructure, agriculture and industry in rural areas and diversify the rural economy

ECO 3.2 Deepen the integration of the tourism sector into the rural economy to spread opportunities to rural communities.

Create jobs and business opportunities

ECO 4.4 Improve and expand the range of sustainable tourism products and services throughout Vanuatu and strengthen links to local production

The availability of bicycles able to be used by tourists in rural areas can promote the improvement of the local economy. Improving the safety conditions of the road network to consider movement of bicycles can enable the movement of tourism to remote areas. The partnership with Tourism agents and authorities is fundamental to market bicycle routes and facilitate this process that will create opportunities for expanding the markets for local industries and fresh products.
Thank you Krista-Lee Jones for the contributions and reflections on the enablers and barriers, and on the analysis of the legislation aspects in Vanuatu and the Region.
Thank you Cameron Craig for the research on possible bicycle lanes in Port Vila to improve People's commuting.
Overview of Regulations applicable to bicycles
Jurisdiction
Vanuatu
Fiji
Queensland
PNG
Legislation
Road Traffic (Control) Act
Bicycles Regulation 1939
Transport Operations (Road Use Management — Road Rules) Regulation 2009
N/A
Overview
Under the Road Traffic (Control) Act, "vehicle" is defined to include every type of wheeled transport including tractors. This would appear to include bicycles and therefore all provisions applying to vehicles would also apply to bicycles.

This includes 'driving' on the right hand side of the road and for a vehicle not to cause nuisance.

The term 'driver' is not defined, but section 3 provides that 'Every vehicle, except trailers, must have a driver.'

Under the Queensland Road Rules, bicycles are considered vehicles. By law cyclists must obey all the general road rules. As a legitimate road user, a cyclist has the same rights and responsibilities as other road users.

253 Avoid being a traffic hazard

You must not cause a traffic hazard by riding into the path of a driver or pedestrian. This rule applies to all road users.

Riding a bicycle
2 One person only to ride

Not more than one person shall at any one time ride or be carried on any bicycle.

245 Riding a bicycle

While riding, you must sit astride the seat and keep at least one hand on the handle bars at all times.

246 Carrying people on a bicycle

You can only double another person if the bicycle is designed to carry more than one person and has a passenger seat and each person wears a helmet.

 
Bike lights
28. Bicycle to be illuminated between sunset and sunrise

Between sunset and sunrise every person riding a bicycle on a road shall illuminate his vehicle by a white or yellow headlamp in front, visible for a distance of 150 metres, and by a red reflector at the rear.

"road" has the same meaning as in the Public Roads Act No. of 2013;

3 Front light

No person shall ride any bicycle during hours of darkness unless it has attached at the front thereof a lamp throwing in a forward direction a light substantially white in colour of sufficient brilliance to be visible under normal atmospheric conditions for a distance of at least 300 feet.

259 Riding at night

When riding at night or in weather conditions with reduced visibility, you must display on your bicycle or yourself:

·       a flashing or steady white light that is clearly visible for at least 200 m from the front of the bicycle

·       a flashing or steady red light that is clearly visible for at least 200 m from the rear of the bicycle

a red reflector on the rear of the bicycle that is clearly visible for at least 50 m from the rear of the bicycle when a vehicle's headlights on low beam shine on it.

 
4 Rear light or reflector

No person shall ride any bicycle between the hours of sunset and sunrise unless either—

(a) it is equipped with a lamp placed at the back of the bicycle so as to display and does display to the rear a red light of sufficient brilliance to be visible under normal atmospheric conditions for a distance of 300 feet; or

(b) it is equipped with a red reflector of a make and type approved by the Land Transport Authority, by notice in the Gazette, and placed perpendicularly at the back of the bicycle so as to reflect to the rear a light shining towards it from rearward of the bicycle.

 
5 White surface at rear

No person shall ride any bicycle unless it displays to the rear a white surface of at least 12 square inches maintained in a clean condition at a place where such surface is not likely to be obscured from the rear by the rider or his or her clothes.

 
Riding on the road
141 Keeping left and overtaking

You must:

·       ride as near as is safely possible to the far left side of the road. On a multi-lane road or a road with two or more lines of traffic travelling in the same direction as you, you can occupy a lane and travel in the right hand lane when necessary (for example, to make a right turn)

·       ride to the left of any oncoming vehicle

·       not overtake another vehicle on the left if that vehicle is turning left and giving a left change of direction signal

·       not ride more than two abreast unless overtaking

·       ride within 1.5m of the other rider if riding two abreast.

247 Riding in a bicycle lane on a road

You should always use a bicycle lane where provided, unless it is impracticable to do so. Direction of travel in a bicycle lane must be the same direction as the traffic in the lane next to the bicycle lane.

 
Equipment on a bicycle
6 Brake

No person shall ride a bicycle unless it is equipped with at least on efficient brake attached thereto and operating on the rear wheel.

7 Bell

No person shall ride a bicycle unless it is equipped with a bell as a warning device attached thereto and capable of being readily operated so as to emit a sound clearly audible under normal conditions at a distance of not less than 100 feet.

258 Equipment on a bicycle

Your bicycle must have at least one effective brake and a bell in working order.

256 Wearing bicycle helmets

You and any passenger you are carrying, must wear an approved, securely fitted and fastened bicycle helmet at all times. You can be exempted from wearing a bicycle helmet if you are carrying a doctor's certificate stating that you cannot wear a helmet for a stated medical reason over a specified period.

 

 
Footpaths
8 Footpath etc

No person shall ride a bicycle on or along any footpath or footway.

250 Riding on a footpath or shared path

You must keep left and give way to pedestrians on footpaths and shared use paths.

251 Riding to the left of oncoming bicycle riders on a path

You must always ride your bicycle to the left of other riders coming towards you on a bicycle path, footpath, separated path or shared path.

288 Riding on the footpath

In Queensland, cyclists of any age are allowed to ride on a footpath unless prohibited by a 'NO BICYCLES' sign. You must give way to pedestrians and ride in a manner that does not inconvenience or endanger other footpath users.

 
Towing
9 Towing

No rider shall permit the bicycle to be towed by any other vehicle in motion on any road.

254 Bicycles being towed

You must not hold on to another moving vehicle while riding a bicycle.

 
255 Riding too close to the rear of a motor vehicle

You must maintain a distance of at least 2m between you and the rear of a motor vehicle when following the motor vehicle for over 200m.

 
119 Roundabouts

At roundabouts drivers who want to turn right at two lane roundabouts are required to enter the roundabout and complete the turn from the right hand lane.

Cyclists are exempt from this requirement and may enter the roundabout and complete a right hand turn from either the left lane or the right lane. Cyclists, if they choose to make a right turn from the left lane, are crossing lanes each time they ride past an exit — as such, they must give way to any vehicle that is crossing their path to leave the roundabout.

 
292 Insecure or overhanging load

You must:

·       secure any loads to your bicycle in a way that does not cause the bicycle to be unstable

·       make sure the load does not stick out from the bicycle in a way that is likely to injure a person, obstruct the path of other drivers or pedestrians, or damage a vehicle or anything else

·       avoid hanging things off the handlebars.

 
10 Registration

No person shall use a bicycle with wheels of a diameter greater than 16 inches unless such bicycle is registered in accordance with the provisions of these Regulations.

Regulations 11 to 21 deals with the registration of bicycles.

 
 
22 Dealer etc to be licensed

No person shall carry on business as a cycle dealer, cycle repairer, or hirer unless he or she is in possession of a licence in respect of each shop in which any or all of such businesses are being carried on.

Regulation 22 to 29 deals with the licencing of bicycle dealers.

 
 
 
172 Unlawfully using motor vehicle, bicycle, boat or canoe

A person who unlawfully uses a motor vehicle, bicycle, boat or canoe without the consent of the owner or of the person in lawful possession of it is guilty of an offence.