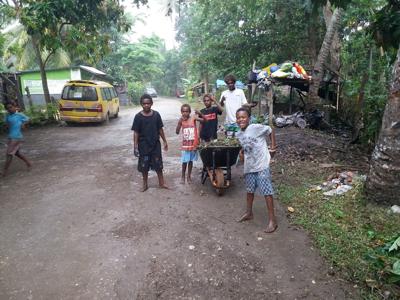 Complaining and whinging seems to be a norm in Vanuatu, however the residents of Respect Street at Erakor Bridge are putting the norm aside and showing self-reliance in keeping their street clean.
Respect Street is the first street on your left as you drive across the Erakor Bridge towards Erakor Village. The street takes you from the main road all the way to the Ekoftau Assemblies of God church.
Unlike other streets in Port Vila and surrounding peri urban areas that are occupied by screaming unemployed drunks with loud music from the night before, today as you are reading, Respect Street is lined with residents raking and picking up rubbish, burning what is organic and bagging what is recyclable.
Since last Saturday, this clean-up campaign has now become a weekly even for the residents.
Today is different because the residents are even cleaning up the coast and the lagoon itself.
Bernard Sam, a long-time resident of Respect Street told Buzz 96.3 FM's Coffee and Controversy team that because of their geographical location rubbish always ends up on their shores.
Mr Sam explains that their narrow water way is what connects Emten (Second) Lagoon to the east and Ekasuvat (Erakor) Lagoon to the west. He says whenever the tide flows in or out, it brings in rubbish from either lagoon it is flowing from leaving it on their shores.
The Respect Street resident says he organized the clean-up campaign before last week which saw the residents clean their street of garbage. Residents all trimmed their hedges to a certain height and cleared all bushy areas outside each of their yards to make the place look presentable.
Mr Sam also acknowledges the issue of climate and says despite not having money or other resources. Everyone has two hands and two legs with an addition of a brain. He explains that all it takes to make a change is to think positive, get up and create a change rather than begging or demanding for help which may or may not come.
He says before demanding help from the Provincial or national governments, they have to help themselves first and show that waste management is an actual concern that needs to be dealt with.
Residents of all ages and walks of life are engaged in the community spirit and it is wonderful to see them working together to create an exceptional environment.
Mr Sam says we live in a world where nature provides us with what we need to live so therefore we have to respect nature and treat nature with care. Mr Sam also says the clean-up activities teaches the kids to make an initiative and be the change they want. He said the kids also learn about garbage separation and why it is important.
by Charles Hakwa