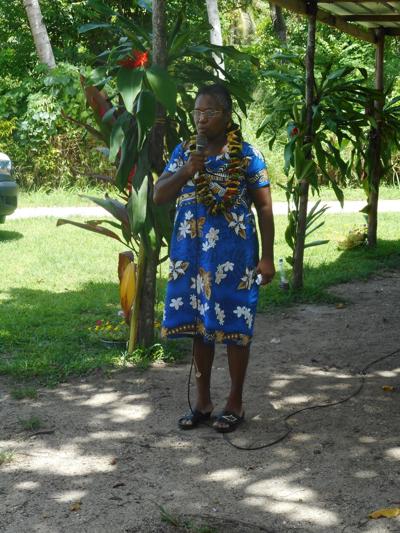 A member of the Tagabe community of Port Vila is encouraging mothers and communities to put their children into school.
Myriam Malau, a member of the 'No Plastik Bag' campaign committee, and an active member of the Tagabe side river community has appealed to mothers and communities particularly in the Capital to put their children into school as one important way to tackle the problem of plastic bag littering.
"I know money is always an issue, but we should all strife to put our children in school, but our environment is important," she told listeners at the recent launching of a specially built trash bin for Erakor Bridge Community donated by the Department of Environmental Protection and Conservation.
She made the appeal after a speech by the Education Ministry senior official Mr. Pierre Gambetta, who explained the campaign by the ministry to get parents to ensure their children not only go to school but enter class one at six years of age.
Mr. Gambetta emphasized the children's ability to learn at an early age and using this as one tool to instill the habit of not litter at the early age. This is so that they when they grow up they will have the habit of throwing rubbish at assigned places like trash bins and not throwing plastic and other rubbish everywhere as it is a real problem today.
Mrs. Malau related the story of her community at Tagabe Side River. She said Tagabe community pick up rubbish all the time today, but one thing they also do is clean the river.
"The first time we started in 2016, we were all sick after the clean up because there was a lot of mud, plastic bottles, plastic nappies, plastic takeaway boxes, plastic bags and even though we cleaned out the river and conducted awareness against littering, people kept through plastic and other trash into the river," she added.
She said the community is now happy because government is assisting with the ban on the manufacture and importation of plastic, which is coming into full effect later on this year.
Government, development partners and private sponsors and businesses continue to assist communities that take the initiative to keep their environment clean, such as the Erakor Bridge Community, just outside of Port Vila.
By Jonas Cullwick
Jonas Cullwick, a former General Manager of VBTC is now a Senior Journalist with the Daily Post. Contact: jonas@dailypost.vu. Cell # 678 5460922