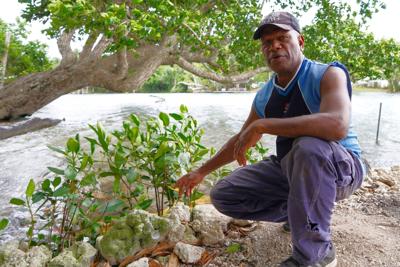 The Erakor Bridge Community is continuing its efforts to make their local environment healthy and free of rubbish with a community clean-up day this Saturday morning.
This is the latest initiative that people in the area have implemented to address the growing problem of environmental degradation. Last year, the community received a new rubbish bin, installed by the Department of Environmental Protection and Conservation to safely dispose of waste items, which has prevented a large amount of rubbish simply being dumped around the settlement.
Community member Ken White says another initiative is the deployment of a pollutant trap – a net attached to frame to collect floating rubbish and remove it from the lagoon. The device was hand-made by young men in the community.
In addition, White says that a local man has been planting mangrove seeds over the past few years to re-establish mangrove habitat. "When the water comes in, it takes away all the sand and the mud," says White. "So we started planting mangroves to protect the soil and protect against cyclones."
Mangrove forests are known to be important environmental buffer zones, protecting coastlines against storm surges by preventing loss of soil, and filtering out pollutants from the land. They also act as fish nurseries, providing habitat for the young of many commercially important fish and shellfish species.
In the near future, White says that the community is hoping to form an organization that will employ local youth in waste management and environmental activities.
This Saturday, White is looking for a good samaritan to volunteer their time and their truck to help remove the rubbish at the end of the clean-up.
The group is also keen to welcome anyone wanting to help out by collecting rubbish on the day. The half-day clean-up starts at 8:30am. Interested persons should ring 7718035 to make arrangements.